Vaccine protects this therapist at both home and work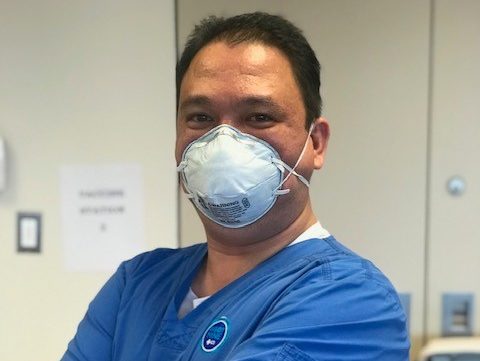 Arrival of the COVID-19 vaccine was thrilling news to Physical Therapist Rodolfo Magtra.
As an Advocate Health Care Home Health Worker, Magtra helps patients re-gain mobility after a stroke, surgery, or a long hospital stay due to COVID-19 or another serious conditions. This means going inside patients' homes to train them how to walk up and down stairs, prepare meals and handle other daily functions – work that requires close contact with different people every day.
"At first, I was scared and unsure [going into patients' homes]," explained Magtra, a husband and father of two. "I made sure before I left the house that I said goodbye to my family because it could be the last time I made physical contact with them."
Although Advocate's Safe Care practices helped Magtra became more comfortable delivering critical, in-home care, getting the vaccine adds another level of security.
Getting the vaccine was convenient because of the Advocate Aurora's LiveWell app. Magtra received an email inviting him to schedule his appointment. He received his vaccine at Advocate Trinity Hospital last month.
"I'm very excited and happy.  I'll be more protected from the virus," he said.
Rodolfo is looking forward to the pandemic's end. But for now, he will continue to use safe care practices to keep patients safe while he's in the field and protect his family when he returns home.
"I will keep cleaning myself up before I start kissing my kids," he said.
Click here for more stories about doctors, nurses and others working on the front lines.
Related Posts
Comments
About the Author
Cassie Richardson, health enews contributor, is regional coordinator on Advocate Aurora Health's Public Affairs team. She has more than 10 years of experience in health care communications, marketing, media and public relations. Cassie is a fan of musical theater and movies. When she's not spreading the word about health and wellness advancements, she enjoys writing fiction.