Teen still bonded with his health care heroes long after life-saving treatment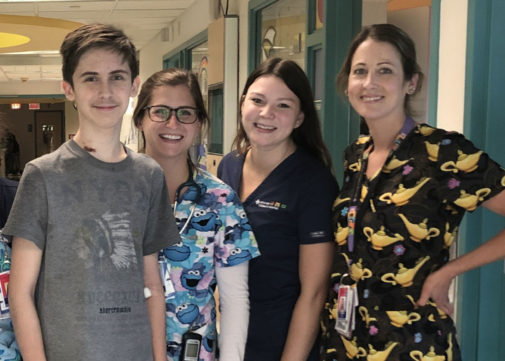 Cooper Walters looks like your average happy, healthy 17-year-old – but his teen years have been far from average.
In summer 2019, Cooper coded twice after suffering septic shock resulting from appendicitis. After being attached to a life supporting Extracorporeal Membrane Oxygenation machine and undergoing many treatments and surgeries, an incredible care team in the PICU at Advocate Children's Hospital in Oak Lawn was able to save Cooper's life.
Now, Cooper can focus more on normal teen things – like thinking about college or hanging with his friends. But even though time has passed, Cooper's gratitude for the team that cared for him hasn't faded in the slightest. He is constantly thinking about the people who poured their talents into saving his life – and is feeling especially empathetic as health care workers continue to battle the COVID-19 pandemic.
To offer his support, this winter Cooper put together a video called "Forever in my heart: Advocate Children's Hospital doctors, nurses and staff." His goal was to raise the spirits of his care team the way they had raised his during the most difficult time in his life. Set to emotional music, Cooper's video first thanks a dozen or so team members and then includes a montage of photos from his journey at ACH.
It's clear the profound impact the ACH care team made on his life. Recently, Cooper found himself a bit emotional when talking about the nurses who sat by his bedside and invested in his health journey in such a personal way. He emphasized that, while at ACH, he didn't feel like just another number or a patient to check off a list. Instead, these people were 100% in his corner – they truly cared about his well-being. During his time at ACH, some of his care team would would send him text messages with words of encouragement when they couldn't physically be there as he underwent treatment.
"These doctors and nurses are the actual angels of our world," Cooper said. "They make every single one of their patients feel like they're never going to leave their side or give up on them. They always made me feel so safe, even if my parents couldn't be there. They went above and beyond."
The biggest thing that stood out to Cooper's mom, Heather Walters, was how the ACH team included Cooper in conversations about his care. Because he was 16 years old as an inpatient, he was very aware of the conversations happening around him. Rather than have those important discussions in the hallway, Heather said Cooper's care team would – when appropriate – discuss his treatment plan in front of him and allow him to give input. This made all the difference in Cooper's recovery – feeling part of the conversation and encouraging him by pushing him not to give up.
Cooper, Heather and his family have gone on to remain close to several members of his care team. They talk regularly and text family photos back and forth. Cooper even gave a few of them gifts over the holidays.
Cooper is incredibly grateful to the Health Care Heroes who cared and continue to care for him even months after his time at ACH. He wants to recognize Dr. Sofia Padilla, Dr. Kathryn Rowland, Jenna Riccio, Sarah Freund Zuniga, Megan Posch, Dr. Emily Obringer, Dr. Manish Raiji, Dr. Travis Matics, Dr. Andrew Van Bergen, Dr. Stratos Skarpatheotis, Cassie Manzi, Erica Paprzycki, Eddie Kennedy and Robyn Kelly for their incredible care during his time at Advocate Children's Hospital.
Related Posts
Comments
About the Author
Bridget Kozlowski, health enews contributor, is a public affairs manager with Advocate Health Care and Aurora Health Care. She holds a masters degree in Public Affairs and a bachelor's degree in journalism, both from the University of Missouri. Bridget previously worked as a reporter for the Chicago Tribune and has also lead local government communications teams for both the City of Sterling Heights, Michigan and the Village of Lombard, Ill. Bridget loves trying new restaurants, traveling and spending as much time as possible with her son, husband and rescue mutt.