Her commitment to her team never wavered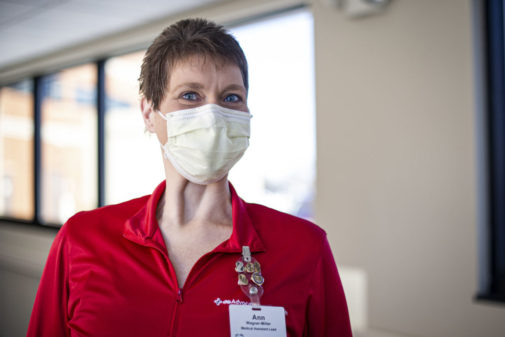 Ann Wagner-Miller has spent 30 years as a medical assistant but she never would have imagined the constant changes to her role during the pandemic. As the lead ENT medical assistant at Aurora Health Center in Sheboygan, she works to make sure her team has the resources and support they need. That commitment hasn't wavered, even when they weren't able to see patients at the clinic.
"When our department shut down temporarily, I helped in other areas," said Wagner-Miller.
Whether it was drive-through testing, the urgent care clinic or elsewhere, she's always ready to pitch in. She's picked up extra shifts on the weekends to help during the pandemic. When she goes above and beyond for her job, it's a family effort—her husband helps pick up the slack at home. Wagner-Miller says he knows how important it is to her to do her part.
"I'm proud to be a part Advocate Aurora and help out where I'm needed," said Wagner-Miller. "I feel good about the work I'm doing."
One of the areas that Wagner-Miller chipped in has been vaccinating team members and patients at the Sheboygan vaccine clinic. She believes that vaccinations are the way out of the pandemic, but helping as a vaccinator has personal meaning, too. She remembers how much it meant to one of her long-term patients to get her vaccine.
"One of my long-term patients kept calling me throughout the pandemic just to see how I was doing. I thought that was so kind of her to call and check in on us," said Wagner-Miller. "When she and her husband came in for their vaccine and saw me, she did a double take and teared up. I got to give her and her husband their vaccines. She was so grateful."
She believes that is some of the most important work she's had the chance to be a part of.
"I feel very passionate about it. We have to do this," said Wagner-Miller. "I urge everyone who is able to get the vaccine to get it. We have to get people vaccinated. We have to get back to normal."
Click here for more stories about doctors, nurses and others working on the front lines.
Related Posts
Comments
About the Author
Ben Hoekstra is a public affairs coordinator with Advocate Aurora Health. He previously worked in marketing and PR for various Milwaukee nonprofits and received his master's degree in Corporate Communications from Marquette University. He enjoys the outdoors, cooking, and all things Milwaukee.