Changing the world one interaction at a time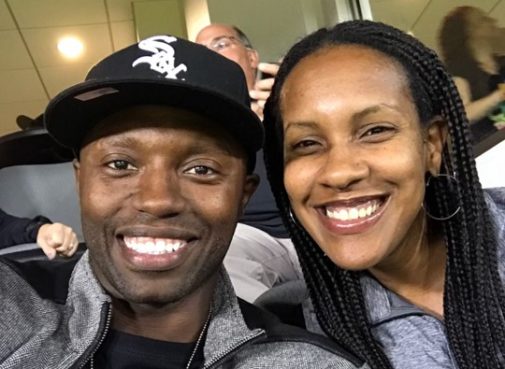 The impact of the crash with the 18-wheeler truck sent Rashard Johnson's 1994 Infiniti G20 ricocheting down the Florida Turnpike in Miami.
Yet when his car finally came to a stop, Johnson walked away with no injuries.
"The EMS technician on the scene said he was amazed I was able to walk away from that accident without a scratch. He said he rarely sees people walk away from a crash like that," Johnson says.
In that moment, Johnson came to fully appreciate his life was spared for a reason. So, at 24 years old, Johnson promised God and himself that he would dedicate his already-bright future to making a huge impact on the world.
"I saw the light. There were still things I needed to accomplish," he says, adding that becoming a husband and father were first on his list.
Fourteen years later, Johnson is married to his high school friend, Donnidra, a proud father of four and president of both Advocate South Suburban Hospital in Hazel Crest, Illinois, and Advocate Trinity Hospital on Chicago's Southeast Side.
Since stepping into this executive role at Advocate Health Care in 2017, Johnson has expanded access to care in these communities – which see the highest rates of stroke and diabetes in metro Chicago – through physician recruitment, the addition of advanced robotic surgery, childbirth services and outreach and community education. He also oversaw construction of a $90 million Surgical Procedural Center that added 88,000 square feet to Advocate South Suburban.
Johnson says his childhood roots in Miami's tough Liberty City neighborhood give him special insights into what it will take to improve the overall health of underserved communities like the ones his hospitals serve – namely addressing education, income and other societal disparities.
But the motivating force behind everything he does is his wife, Donnidra.
"I wouldn't be the man, husband, father or executive I am without her," Johnson says.
Years ago, when Donnidra gave birth to their daughter prematurely, she inspired Rashard to become an avid supporter of the March of Dimes in Houston, where they lived before Rashard joined Advocate Health Care.
"I had a good education and financial resources, and that was still the most vulnerable time in my life. Now I think about all the people who don't have access to the same resources we had, and I want to help," he says.
Today, Rashard sits on the Chicagoland March of Dimes Board of Directors and facilitates partnerships to support the South Side's new mothers.  This past summer, the March of Dimes partnered with Advocate Trinity to host the hospital's first drive-through baby shower, which offered newborn care packages to new mothers with financial difficulties caused by the pandemic.
Donnidra and Rashard met through mutual friends as 10th graders at Norland Senior High School in Miami Gardens. Rashard believes he and Donnidra "dated" back then. Donnidra, on the other hand, remembers having a crush but keeping her future husband at arm's length. However, the couple does agree that even as youngsters, they admired each other's commitment to academic achievement.
Both graduated from the same high school – Donnidra as Best-All-Around female, Rashard as Best-All-Around male – and went on to study at different colleges. Both earned degrees and landed on the corporate leadership track. They appreciate how good fortune helped them overcome education, income and other societal disparities impacting the overall health of others living in areas like their former, underserved community.
"For me, being in the position I'm in now is nothing short of a miracle and a blessing from God," Rashard says.
In 2020, to share their blessings, the couple created the Rashard and Donnidra Johnson Scholarship for college-bound seniors.  Every year this scholarship will award $1,000 to top-performing students graduating from the couple's high school alma mater. Over time, the couple intends to endow full-tuition college scholarships for students living in inner city communities in Miami, Dallas, Houston and Chicago.
"I'm looking to make an impact through generational change, and that starts one person at a time, one interaction at a time," Rashard says. "And we're just getting started."
Click here for more stories about doctors, nurses and others working on the front lines.
Related Posts
Comments
About the Author
Cassie Richardson, health enews contributor, is regional coordinator on Advocate Aurora Health's Public Affairs team. She has more than 10 years of experience in health care communications, marketing, media and public relations. Cassie is a fan of musical theater and movies. When she's not spreading the word about health and wellness advancements, she enjoys writing fiction.