"These people saved my life," says veteran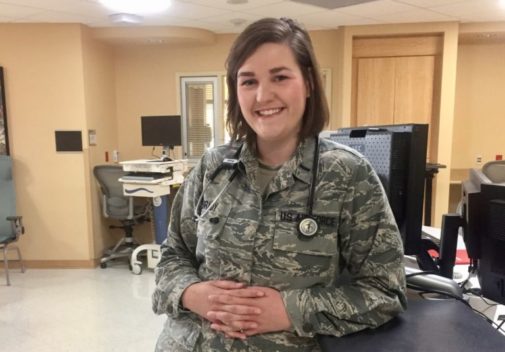 Therese Brady looks back on her time in the military with mixed feelings. While she was proud to serve and grateful for the experience, her experience was marred by trauma—Brady was sexually assaulted during her time in the Air Force. When she sought help, things didn't get better. Eventually, in 2017, she was medically discharged and came back to her hometown of Milwaukee.
But the discharge and return home weren't going to fix things. Brady felt isolated and knew she needed support. That's when a former neighbor, Debby, directed her to the Veterans Retraining Program at Aurora Psychiatric Hospital.
The Veterans Retraining Program is run by Dr. Erich Roush and Dr. Greg Burek, both military combat veterans. Having a psychiatrist, Burek, and psychologist, Roush, that have served helps veterans feel more comfortable and avoid spending their time explaining the nuances and impacts of serving.
"I went to see Dr. Roush and Dr. Burek and they basically told me that no matter what I do, I needed to stay in one place for a while," said Brady. "I told them I was going to leave Milwaukee. They said I needed someone to be able to know me and help me for a while. I took their advice and stayed for this treatment. That really kept me there."
Brady felt comfortable working with other veterans in the program, both in group sessions and when talking with Dr. Roush and Dr. Burek. The level of understanding that fellow veterans could provide made a big difference.
"Getting through the day was a big struggle when I first started seeing them," said Brady. "These people saved my life."
Brady was able to put some of the difficult things in her past behind her and move forward positively. Her husband, who is still on active duty in the Air Force, was able to return to the U.S. and reunite with her. She started graduate school this fall and has stability that was hard to find before.
"Unfortunately for many veterans, trauma can be betrayal from discharge, failure of leadership, being punished asking for help, or something else," said Dr. Roush. "In our program, we help heal interpersonal and institutional trauma—the second often goes unrecognized or untreated."
Brady believes that all veterans can benefit from the program, even if they haven't had as traumatic of an experience as she did. When she moved to Colorado, she didn't find anything quite like it. She still checks in with Dr. Burek virtually.
Click here for more stories about doctors, nurses and others working on the front lines.
Related Posts
Comments
About the Author
Ben Hoekstra is a public affairs coordinator with Advocate Aurora Health. He previously worked in marketing and PR for various Milwaukee nonprofits and received his master's degree in Corporate Communications from Marquette University. He enjoys the outdoors, cooking, and all things Milwaukee.