An extra dose of joy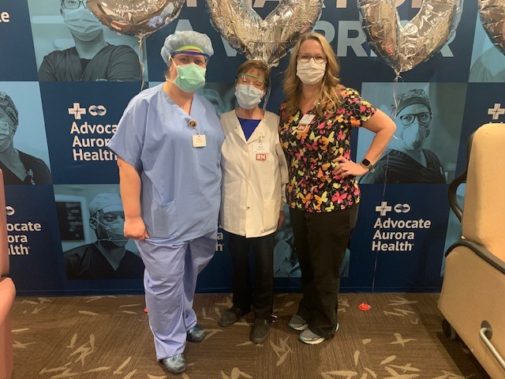 They were beginning to wrap up, waiting for the final patient of the day. Then a woman rushed in, frantic and frustrated.
She didn't want to come in, and certainly didn't want to get the shot. But the woman was not the patient. It was her elderly mother, sitting in the car outside, and her daughter didn't know what to do.
While Amy Moczynski empathized with the woman, she was already putting a game plan together in her head. Moczynski has seen a lot in 26 years in health care, and as the lead vaccinator that March afternoon at Aurora St. Luke's South Shore in Cudahy, Wis., every day is its own little rollercoaster.
She learned that the mother had dementia, and after a half-hour of whole-hearted pleading from the daughter, mom wouldn't budge.
So, Moczynski enlisted the aid of two other veterans on her team. Pat Kadlic retired after a 40-year nursing career with Aurora to assist with COVID efforts, and Tara Jazdzewski is a surgical assistant with 14 years of experience.
They went over everything with the daughter and planned for any potential reactions from the vaccine. Then Kadlec, Jazdzewski and the daughter geared up and went out.
At the car, they met the mother and another of her daughters. They asked what usually calms their mom down, and they said they sometimes sing her favorite song, "You Are My Sunshine."
So, one of the team members held the mom's hand, another gave the shot, and the daughters, featuring the South Shore Vaccinators, all sang her favorite song.
Mom didn't flinch an inch. The team nailed both performances. And the mother and her daughters were grateful she got the vaccine.
After Jazdzewski went back inside, she called the daughter to set up the next appointment.
A second shot for the mom, and an extra dose of joy for the South Shore team.
"As tragic and stressful as this pandemic has been, it is very rewarding when we can offer the community hope for a better tomorrow," said Moczynski. "It's worth the rollercoaster ride every time."
Click here for more stories about doctors, nurses and others working on the front lines.
Related Posts
Comments
About the Author
Matt Queen, health enews contributor, is a communication coordinator at Aurora Health Care in Milwaukee. He is a former TV sports anchor and journalist with extensive public relations experience across the health care spectrum. Outside of work, Matt enjoys watching sports (of course), cooking, gardening, golfing and spending time with his wife and two young children.