A new lease on life: Patient celebrates 10-year anniversary after heart surgery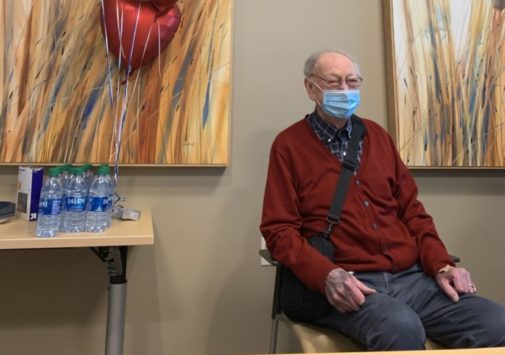 Roger Mohr stepped into the conference room at Advocate Condell Medical Center to a rousing round of applause and cheers. Mohr paused, noticed the doctors and nurses from his care team, and smiled.
"Celebrating my 10 years?" Mohr said, noticing the cake and balloons.
Indeed. It was 10 years ago that Mohr, his heart failing, received a ventricular assist device (VAD) in a procedure performed by Dr. Pat Pappas at Advocate Christ Medical Center. The surprise celebration at Condell, where Mohr also receives follow-up care, honored the milestone.
Mohr received a VAD on March 22, 2011. William Cotts, the medical director of the Advanced Heart Failure and Mechanical Assist and Transplantation program at ACMC, said Mohr was extremely ill 10 years ago and the VAD as allowed him to live and thrive in the decade since the procedure. A ventricular assist device can completely take over for a heart that is weak or cannot function on its own, Cotts said.
VAD therapy can extend survival time until a donor heart is available or, as in Mohr's case, provide long-term support for those patients where heart transplantation is not an option. With either form of VAD therapy, the goal is for patients to live life independently again and experience better outcomes.
Since only about 4,000 people in the United States are able to receive heart transplants each year, VADs can be lifesavers. Cotts credits the elite surgeons at ACMC, the VAD team and the nurses for making the heart program one of the busiest and best in the country.
Mohr's care team organized the ceremony. The team purchased a giant cake with the message, "Happy 10th VAD-iversary, Roger!" and balloons to mark the occasion.
"Ten years is a great success," said Robin Paliga, VAD coordinator and nurse practitioner at Advocate Christ Medical Center in Oak Lawn, Ill. "A tremendous success."
The event was a surprise to Mohr, 89, who thought he was visiting the medical center for his usual appointment.
"I'm just happy to be around, frankly," Mohr said. "And I'm enjoying time with my wife and family."
Mohr, a former Lake Forest alderman and chairman of the plan commission, long since retired from an advertising career and for many years served on a variety of community boards and commissions. Mohr said he has enjoyed getting to see his grandchildren grow older, working on a family history project and helping to organize the 72nd reunion for his high school class.
Mohr and his wife Pauline have been married 62 years. The couple has five children and three grandchildren. The chose ACMC, even though it is a long drive from their home, because of its sterling reputation with heart procedures.
"I'm so thankful we found Advocate Christ (Medical Center)," Pauline said. "It's a long way from our home. … But we've always been so thankful that's the route we took."
Mohr's care team credited their patient's diligent attention to his health, his faithful attendance at appointments and the support of his wife for helping him live well after his 2011 heart procedure.
"He's been an awesome patient," Paliga said. "We're happy to see him succeed and thrive and we're here to support him 100% of the way."
For the past several years, Mohr, who lives in Lake Forest, Ill., has been attending shared care with nurses and doctors at Advocate Condell Medical Center in Libertyville, near his home, and at Advocate Christ Medical Center in Oak Lawn. Members of the team who work at ACMC watched the ceremony via videoconference and were also able to offer their congratulations to Mohr through the remote connection.
Advocate Condell Medical Center President Matt Primack also attended the ceremony.
"For us, to be able to be part of this celebration with you is just great," Primack said. "We all consider this the most special thing that we do all day. It is why we come to the campuses to do what we do, whether it is at Condell, whether it is at Christ. I just want to thank you for having the opportunity to celebrate this with you."
Primack commended Cotts and the team and said it is a pleasure for Advocate to be able to support the work that they do for patients like Mohr every day.
"I have had the pleasure of working with the best of the best," Primack said. "I can say confidently, this is a team second to none. For me, it's an honor and a privilege just to be in the same room with them."
As Mohr's care team munched on pieces of cake, they swapped stories about Mohr and marveled at his dedication and stamina.
"It's been an honor to take care of you and help you with your journey," Paliga said.
Click here for more stories about doctors, nurses and others working on the front lines.
Related Posts
Comments
About the Author
Patrick M. O'Connell, health enews contributor, is a member of the public affairs team for Advocate Health Care and Aurora Health Care. He previously worked as a reporter at news outlets throughout the Midwest, most recently the Chicago Tribune. He enjoys playing and coaching baseball and basketball, hiking, reading, listening to podcasts, karaoke and spending time in nature with his family.