Even when it's hard, she keeps stepping up to help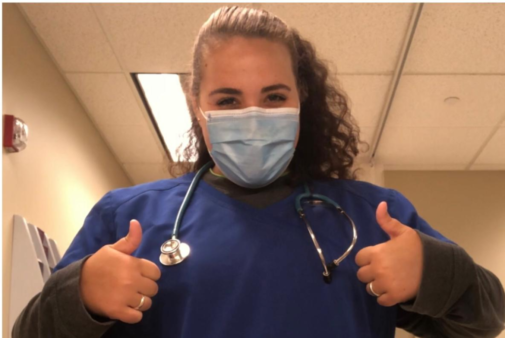 The pandemic has gone on for more than a year and everyone has had to make changes. Like many health care workers, Kaylandra Herman is no exception. When the pandemic hit, she was asked to help lead the entrance screening effort at Aurora West Allis Medical Center, adapting as the medical world learned more about COVID-19. For eight months, her team helped make sure team members and patients could safely come into the medical center for work or to receive much-needed care.
"I've always been in a leadership role. That's always come natural to me," said Herman. "It was a tough time at the beginning. People wanted to see their families. It was a lot of calming down and hearing them out.  A lot of my time is just talking, listening to their concerns and seeing if I could help."
That wasn't the only time that Herman stepped up to help. After she trained her replacement for entrance screening, she pitched in to care for patients and even just sit with them on the COVID unit at Aurora West Allis. She even added more shifts on to her normal day-to-day work as a medical assistant in the Women's Pavilion.
Working on the COVID unit was an eye-opening experience for Herman. It made the pandemic even more real, especially seeing patients who were on ventilators.
"You're seeing it first-hand," said Herman. "It makes you really grateful to go home and hug your loved ones."
She's grateful for the teams she's worked with. She's met so many different people at Aurora West Allis throughout the pandemic and seen just how much the team has pulled together. When she needs to blow off steam, she jams to music on her commute home.
"I travel an hour to work every day. What helps my mental health is music. When I'm feeling stressed, I just jam out to music and it really helps me," said Herman. "I'm one of those people who does air guitar in the car. I grew up on Simple Plan so that's my guilty pleasure."
Herman is getting her vaccine soon and can't wait for everyone to get theirs.
"If anything, this pandemic has taught me that you're not always guaranteed the amount of time you're given in this world. Tell people you love them every day," said Herman. "Wash your hands. Get the vaccine."
Click here for more stories about doctors, nurses and others working on the front lines.
Related Posts
Comments
About the Author
Ben Hoekstra is a public affairs coordinator with Advocate Aurora Health. He previously worked in marketing and PR for various Milwaukee nonprofits and received his master's degree in Corporate Communications from Marquette University. He enjoys the outdoors, cooking, and all things Milwaukee.