Nurse cherishes personal connections during pandemic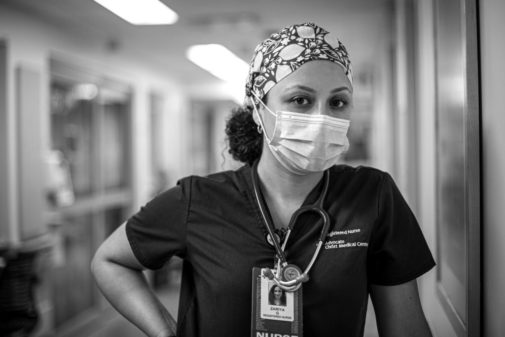 When Zariya Gonzalez began her nursing career last spring, the coronavirus pandemic was in its infancy. After receiving her nursing school degree, she started work at Advocate Christ Medical Center in Oak Lawn, Ill., only a few weeks after her unit was turned into a dedicated space for COVID-19 patients.
The past year, she said, has been both stressful and rewarding. Gonzalez worked to establish personal relationships with her patients, especially since their family members were not allowed to visit because of the dangers of the virus. She worried about bringing the virus home. She strived to learn the best ways to tackle COVID-19 and to care for her patients.
Although there have been many mentally and emotionally draining moments, those personal connections with patients have been among her favorite parts of becoming a nurse. And Gonzalez said she has found comfort in being able to help patients recover.
"Watching patients walk out of the hospital in better condition than they came in was gratifying to see, although they will not remember me, I will remember them," Gonzalez said.
Throughout it all, Gonzalez knew she could lean on her colleagues. More experienced nurses assured her and coached her on how to protect herself, how to cope with stressful moments and how to handle the emotional toll of the pandemic. This camaraderie and support from others, she said, was a gift.
"Our unit was supportive of everyone, even if there were nurses that floated from another floor, we knew some of the patients better and we always helped each other out," Gonzalez said. "We were a great team and I would not have been able to get through such a hard time without those nurses, especially as a new grad nurse."
Gonzalez remembers connecting one patient to their family members over the phone and how that simple gesture helped lift the patient's spirits. Later, Gonzalez was able to assist the patient when they recovered enough to be discharged.
"It was a happy moment for all of us because the patient was able to go home to family," Gonzalez said.
A few months later, the patient's family called Gonzalez's unit and arranged to have food delivered to the staff. The patient and the family appreciated all of the care they had received.
"To have them tell me how much better the patient was doing," Gonzalez said, "it made me feel like I was doing the right thing."
Click here for more stories about doctors, nurses and others working on the front lines.
Related Posts
Comments
About the Author
Patrick M. O'Connell, health enews contributor, is a member of Advocate Aurora Health's public affairs team. He previously worked as a reporter at news outlets throughout the Midwest, most recently the Chicago Tribune. He enjoys playing and coaching baseball and basketball, hiking, reading, listening to podcasts, karaoke and spending time in nature with his family.