Midwife supports LGBTQ+ care through all life's stages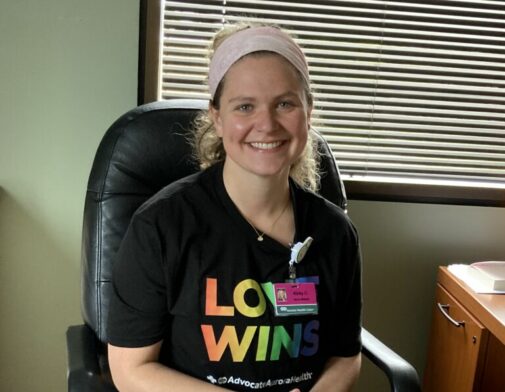 The word mid-wife derives from the Old English words mid, "with," and wif, "woman," and originally meant "with-woman."
This ancient translation still carries meaning today, says Kirby Curby-Warner, certified nurse midwife (CNM) at Advocate Aurora Health in Burlington, Wis.
"I love the 'with' part of the definition because it means we work together," she said. "We listen to understand individual needs. People know their own bodies best and we want patients to be involved in their own care."
As a CNM, Curby-Warner is an advanced practice nurse, serving people with obstetric or gynecological care across the lifespan, from puberty to menopause.
"People think of midwives as being experts in delivering babies and that's true, but anyone who needs gynecological care can come and see me at any age," she explains. "Midwives offer the full spectrum of women's health care, including providing support for birthing people throughout the delivery process."
Feeling that unique connection to her patients drives Curby-Warner's passion for her work each day. It also fuels her advocacy for the LGBTQ+ community.
"The collaborative approach puts the patient at the center and is not cookie cutter," she says. "This helps me respond to the unique needs of the individual, including people who identify as LGBTQ+."
As a midwife and advocate, Curby-Warner feels well positioned to help break down barriers that have existed between the LGBTQ+ community and the medical profession, from family planning to preventative care.
"Not everyone who needs gynecological care was female at birth," she said. "A transgender individual can be very masculine and still require gynecological care. What we don't want to happen is for that person to avoid care because they feel awkward or unsupported. That has sometimes occurred in the past, but it's changing now."
One way she establishes trust is to encourage open and honest communication.
"Obstetrics care creates vulnerabilities for everyone, and LGBTQ+ patients can feel especially at risk. As we engage with one another, words matter. Through word choice, pronoun preference, and honest questioning, we reduce anxiety for LGBTQ+ patients. That translates to better patient outcomes."
Recently, the midwifery profession has moved to the term "birthing person" rather than mother or woman. It will take some time for our field to fully adapt this term, but it is more inclusive and gives the title to patients who may not identify with woman or female, she says.
Curby-Warner celebrates Pride Month because it puts a spotlight on such changes — what the company is doing correctly and or what they can do differently to support the LGBTQ+ community. She said she's proud to serve her LGBTQ+ patients and to be a part of the positive change in society.
"Providing comprehensive and inclusive care to our patients is the root of midwifery care and what it means to be a midwife," she says. "In my practice, I want all my patients to feel they have a safe place for care and are supported as individuals."
Looking for an LGBTQ+ friendly health care provider? Find one in Illinois or Wisconsin.
Related Posts
Comments
About the Author
Annette Guye-Kordus is a public affairs coordinator with Advocate Health Care and Aurora Health Care.