Should you take anti-inflammatories before a workout?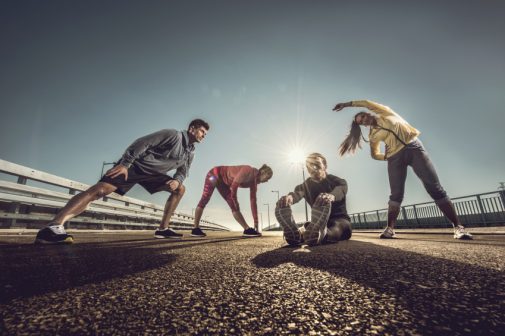 It seems to make sense. You want to go for a run and plan to push yourself in terms of distance and speed. So, you reach for a bottle of pain medicine to give you a leg up before lacing up your running shoes. Sounds reasonable and harmless, right? Wrong.
Taking non-steroidal anti-inflammatory drugs (NSAIDs) before exercise is a common practice among athletes of all levels. Over the years, the athletic community has encouraged the use of NSAIDs by promoting the belief that they will help an athlete train better and harder, a concept that has proven to be untrue and unsafe. Here are a few important reasons to refrain from this potentially harmful practice:
Overuse Injuries: Every time you work out, you cause changes in your muscles, ligaments and bones. Inflammation is your body's natural way of healing itself. NSAIDs shut down the production of substances that cause inflammation and also stop your body from making chemicals that can be protective. Therefore, your body is unable to heal itself, which can lead to overuse injuries.
Gastrointestinal Damage: A strenuous workout can harm the lining of the gastrointestinal tract, at least for the short term. Combining a tough workout with NSAIDs can amplify the damage. This is because taking something like Advil blocks the production of prostaglandins, the substances that are naturally produced by the body and protect the lining of your intestines. If your intestines are damaged, they can become "leaky." This can allow toxins and other byproducts from bacteria to seep into the bloodstream. In addition, it can cause stomach upset or gastrointestinal bleeding. The risk of stomach irritation or GI bleeding increases with long-term use of NSAIDs.
Increased Blood Pressure: NSAIDs can increase your blood pressure and also block an enzyme (called cyclooxygenase) that protects the heart. Add this to the fact that your blood pressure naturally rises when you exercise and you now have two factors increasing your blood pressure, putting you at risk for a mini stroke or heart attack. This is why some prescription NSAIDs have been taken off the market.
Kidney Damage/Failure: As mentioned earlier, NSAIDs inhibit the production of prostaglandins. Another important role prostaglandins play in the body is to help normalize blood flow to the kidneys. When an athlete mixes NSAIDs with physical exertion and dehydration, the kidneys can be overwhelmed, resulting in damage or in severe cases, failure.
Musculoskeletal Injuries: Research has shown that taking anti-inflammatories before exercising may increase the risk of musculoskeletal injuries and delay healing by impairing the creation of collagen, a key component of bones, muscles and connective tissues. Calf strains, pulled hamstrings and Achilles tendonitis are a few examples of such injuries.
In conclusion, it is not advisable or safe to take NSAIDs before exercise. All medications have serious risks, even if they are sold over-the-counter. NSAID use has not been proven to enhance performance, minimize muscle damage or aid in decreasing post-workout soreness and can cause serious health issues. Proper warm-up, hydration and nutrition can help optimize performance and lessen the discomfort of sore muscles and is the recommended way to start a workout.
Do you have hip or knee pain? Take a free online quiz to learn more. 
Dr. James R. Seeds is an orthopedic surgeon at Advocate Good Shepherd Hospital in Barrington, Ill.  
Related Posts
Comments
About the Author
James R. Seeds, MD, is an Orthopedic Surgeon at Advocate Sherman Hospital in Elgin, and a partner at the Midwest Bone & Joint Institute (Algonquin, Barrington, Elgin and Geneva). He earned his doctorate from the University of Chicago Pritzker School of Medicine, completed his residency at the Hamot Medical Center in Erie, PA, and fellowship at the American Sports Medicine Institute in Birmingham, AL. Dr. Seeds holds a double board certification in both Orthopedic Surgery and Sports Medicine.