Articles by "Dr. James Seeds"
James R. Seeds, MD, is an Orthopedic Surgeon at Advocate Sherman Hospital in Elgin, and a partner at the Midwest Bone & Joint Institute (Algonquin, Barrington, Elgin and Geneva). He earned his doctorate from the University of Chicago Pritzker School of Medicine, completed his residency at the Hamot Medical Center in Erie, PA, and fellowship at the American Sports Medicine Institute in Birmingham, AL. Dr. Seeds holds a double board certification in both Orthopedic Surgery and Sports Medicine.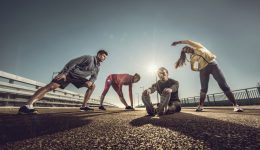 Do you reach for the bottle before going for a run? An orthopaedic surgeon weighs in with reasons to refrain.