Can too much exercise be dangerous for your health?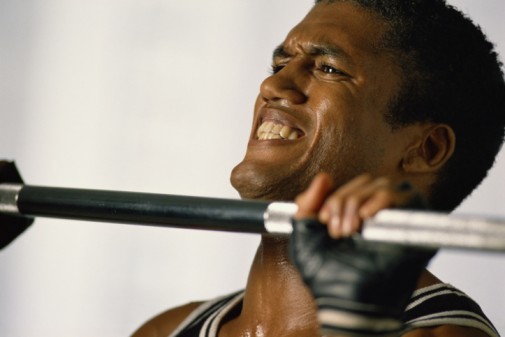 Watching episodes of Spartacus or Game of Thrones may leave you feeling like you want to hit the gym extra hard, but experts say "Hold your horses." Athletes who overdo it at the gym can put themselves at serious risk for developing a life-threatening condition called rhabdomyolysis.
Known in fitness circles as "rhabdo," where skeletal muscle tissue breaks down quickly causing damaged cells to enter the bloodstream. Left untreated, rhabdomyolysis can cause severe damage to your organs, including fatal kidney failure.
Bruce Ferguson, fitness specialist and personal trainer at Advocate Good Samaritan Hospital in Downers Grove, Ill. says the pain caused by rhabdo can be excruciating.
"Symptoms include muscle pain, weakness and swelling of the affected muscles," he says. "You can also tell by looking at your urine, which may be noticeably dark or tea-colored."
Ferguson added that even though overexertion can cause rhabdomyolysis, there are other conditions that can trigger it, including infections such as the flu, salmonella, malaria and injuries where people are crushed. This is why rhabdo is commonly reported after earthquakes where survivors have been trapped under rubble, according to the U.S. Centers for Disease Control and Prevention.
Treating and Preventing Rhabdo
When caught early, the prognosis is good and you can generally return to normal activities within a few weeks. Ferguson says drinking plenty of water and staying hydrated is your best bet to prevent getting the condition.
Other experts also warn to avoid supplements such as creatine, which can put you at a higher risk of developing rhabdo.
Ferguson says athletes should always remember to slowly work their way up to strenuous exercise, especially if they've had an extended break. "You don't have to become a Titan in a day."
Like it, share it or leave a comment!
Tags
About the Author
Stephanie Johnson, editor-in-chief of health enews, is an award-winning journalist and writer with more than 13 years of media and public relations experience. She serves as director of public affairs for Advocate Health Care, one of the nation's top health systems. In her seven years in television news, Stephanie worked as a segment producer for ABC News in New York, where she produced national stories for both Good Morning America and World News Tonight.

Stephanie also worked as a freelance writer for WFLD Fox News Chicago, a freelance producer for ABC News and NBC News and as co-anchor and reporter for 16 WAPT News, the ABC affiliate in her hometown of Jackson, Mississippi. In her spare time, you can catch Stephanie, her hubby Mario and their two doggies traveling, volunteering and mentoring young students.
Related Posts