Share the love (not the flu) this holiday season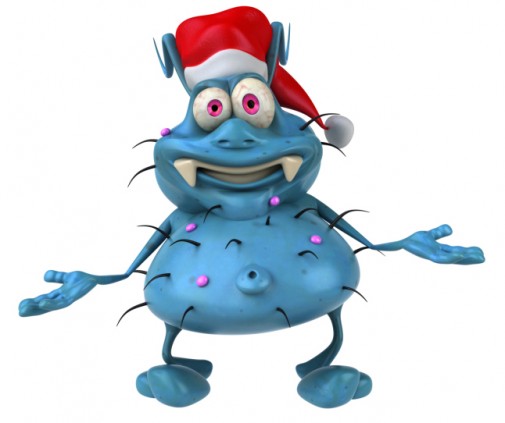 'Tis the season for influenza.
Flu activity is expected to increase in the coming weeks just as people gather with their family, friends and coworkers for the holidays, according to the Center for Disease Control and Prevention.  Adding any illness to the holiday mix could prove costly for the millions of people looking to celebrate.
"We are seeing patients with the flu right now, which is earlier than usual," says Dr. Ashima Salwan, internal medicine physician on staff at Elgin-based Advocate Sherman Hospital. "We need to protect ourselves and those around us. The last thing you want is to be sick or spread illness during the holidays."
As residents prepare for a house full of guests and the holiday work party season gets underway, many will travel to see family and friends they haven't seen for some time. The often close-quartered visits then end with many of those same people heading back to their schools, homes and businesses with more than just new holiday memories, but also germs and illness.
As an airborne virus, the flu can easily spread.
Between 5 and 20 percent of Americans suffer from the flu each year, resulting in more than 200,000 hospitalizations and between 3,000 to 49,000 deaths, according to the CDC. Nearly 60 percent of flu-associated hospitalizations last year were in people 18 to 64 years old.
People with the flu can spread it to others up to about 6-feet away through coughing, sneezing or just talking. Also, they may pass the flu on to someone else before they even know they are sick.
"The simplest advice if you are sick, or think you may be getting sick, is to stay home and away from other people," says Dr. Salwan. "That's not always the case during the holidays, and that's why people have to get their flu shots and practice proper hand hygiene."
Everyone six months of age and older should receive a flu shot annually. Young children, people 65 and older, pregnant women, and people with chronic health conditions are at higher risk of developing serious complications from the flu.
It takes about two weeks after vaccination to provide protection against the virus.
"It takes your body time to build up strong antibodies after you receive the vaccine, and then you're covered," Dr. Salwan says. "The vaccine is very versatile because the virus is versatile. You need your flu shot every year."
Stress created from organizing that holiday bash, traveling cross-country or finding that perfect gift for a family member or friend could also play a role in whether or not a person gets sick.
"Stress overall is not good for you and weakens your immune system, making you more prone to infection," says Dr. Salwan. "Plan everything adequately, and give yourself enough time to get things done so you don't get overwhelmed."
To avoid the spread of germs:
Cover your nose and mouth with a tissue when you cough or sneeze
Wash your hands frequently with soap and water. If soap and water isn't available, use an alcohol-based hand sanitizer.
Avoid touching your eyes, nose and mouth to avoid the spread of germs
Avoid close contact with people who have flu-like symptoms
Stay home if you are sick or have flu-like symptoms
Clean and disinfect frequently touched surfaces
Get plenty of sleep
Keep physically active
Manage stress
Keep hydrated
Eat healthy
Related Posts
Comments
About the Author
health enews staff is a group of experienced writers from our Advocate Health Care and Aurora Health Care sites, which also includes freelance or intern writers.