When you eat matters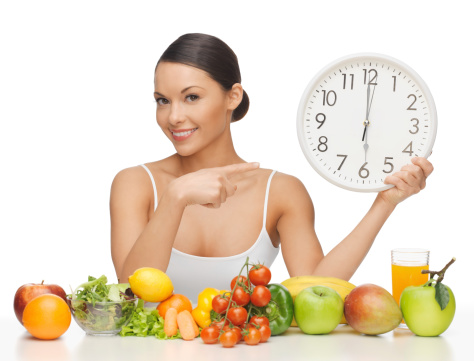 Diet and exercise are an important component in helping you lose weight and keeping your heart healthy. But a new study finds that when you eat can be just as impactful as what you eat.
A study, published in Science, found that changing the time span of food consumption could actually prevent aging and diet-related heart problems. Researchers also discovered that the body's circadian rhythm is integral to the process of better heart health.
Biologists from San Diego State University and circadian rhythm experts from Salk Institute used fruit flies to better understand their hypothesis.
In the experiment, one group of fruit flies was given a standard diet of cornmeal that they could eat all day long. While another group of fruit flies was given the same amount of cornmeal, but was only allowed to eat the food during a 12 hour period.
Throughout the course of the experiment, researchers measured how much the fruit flies were eating in addition to health measures like sleep, body weight and heart physiology.
By week three, flies on the 12-hour time-restricted feeding schedule slept better, didn't gain as much weight and had far healthier hearts than their "eat anytime" counterparts, even though they ate similar amounts of food.
"In very early experiments, when we compared 5-week old flies that were fed for either 24 hours or 12 hours, the hearts of the latter were in such good shape that we thought perhaps we had mistaken some young 3-week-old fruit flies for the older group," said lead researcher Shubhroz Gill. "We had to repeat the experiments several times to become convinced that this improvement was truly due to the time-restricted feeding."
Also, when researchers introduced the dietary time restrictions to older flies, their hearts became healthier.
Although the findings may be true, dieticians still believe that eating meals and snacks any time in the day are important for weight maintenance.
"Don't let the myth of eating after 8 p.m. scare you," says Michelle Remkus, registered dietician at the Good Samaritan Health and Wellness Center in Downers Grove, Ill. "Our bodies digest food the same, whether it's early in the morning or later in the day."
Remkus recommends the following to help keep a balanced diet:
Try to eat three meals and snacks in-between.
Fill half your plate with fruits and vegetables.
Consume fiber rich foods like brown rice, oatmeal, quinoa and whole wheat
Make sure to incorporate health fats, lean protein and plant-based protein into your diet like nuts, beans, nut butter, eggs, lean meats, avocados, olive oil, as well as, low-fat milk, cheese and yogurt.
Researchers do want to note that there are some hurdles to clear before extrapolating this research to humans.
"Humans don't consume the same food every day. And our lifestyle is a major determinant of when we can and cannot eat. But at the very minimum, our studies offer some context in which we should be pursuing such questions in humans," said researchers.
Related Posts
Comments
About the Author
health enews staff is a group of experienced writers from our Advocate Aurora Health sites, which also includes freelance or intern writers.