For Sister Mariam, nursing act is second to nun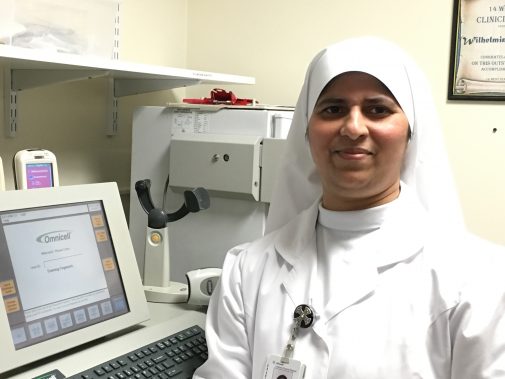 As most of us crawl into bed for the night, Sister Mariam Kannankara – after a long day spent in church and making house visits to care for those in need – heads off to her second job, where she works the night shift at Advocate Lutheran General Hospital in Park Ridge, Ill.  There Sister Mariam does even more caring for others—this time as a nurse.
It's quite a second (Sister) act.
Sister Mariam grew up in India and joined the convent at the age of 15. Eighteen years ago, she came to the United States. Today, she serves the Lord as a Bethany Sister, a Congregation of Sisters of the Imitation of Christ. Before her second job, that is.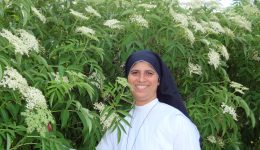 "Both as a nurse and as a nun, I have the unique opportunity to serve and help others," says Sister Mariam. "I am on a general medical floor, treating those with all sorts of health issues, like diabetes, pneumonia and drug and alcohol addiction."
Her patients can spot her quickly—she is the only one walking the halls in full habit. There's no hiding that she is a nun—she wouldn't want to. Many of her patients find comfort in it.
"My patients tell me they're happy a nun is taking care of them," she adds. "They know they are in good hands."
She does smile a bit remembering those patients who wake suddenly to see her in her white veil at night. "Some patients have momentarily wondered if I am an angel," she says.
There is something angelic about Sister Mariam's great joy for her two passions. She shares those same passions with two other Bethany Sisters who settled in Chicago with her. All three work the night shift.
"Our days are quite similar," says Sister Mariam. "Church in the morning and a nap in the afternoon, then evening prayer, dinner and one last quick nap before heading to the hospital again." It is not until 8:00 a.m. the next morning that she wraps up at the hospital and heads home.
For nurses, the night shift is demanding. While one might think her patients would be sleeping, that is not the case.
"Many of my patients are in pain," she says. "Some are struggling through alcohol or drug detox. I'm here to ease their pain and make them feel as comfortable as possible."
In her free time, Sister Mariam enjoys gardening. Then, it is back to her two jobs as the work week begins. She says both of her callings have been rewarding. Both give her the chance to bring comfort and make a difference in so many other people's lives.
Related Posts
Comments
About the Author
Sonja Vojcic, health enews contributor, is a marketing manager at Advocate Health Care in Downers Grove, Ill. She has several years of international public relations and marketing experience with a Master's degree in Communications from DePaul University. In her free time, Sonja enjoys spending time with her family, travelling, and keeping up with the latest health news and fashion trends.