Here's how to get back into an exercise routine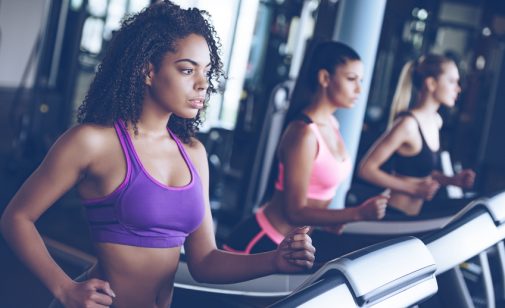 When seemingly endless holiday parties and heavy winter meals mix with the cold of the season, it's easy to let your weekly gym appointments slide.
Unfortunately, research shows individuals who stop exercising will lose their strength gains within two or three weeks and cardio gains within 12 days, says Ed Bendoraitis, exercise physiologist at the Advocate Good Samaritan Hospital Health and Wellness Center in Downers Grove, Ill.
Those who have been exercising longer will hold on to their prior levels a little further past those marks, but losing some of your progress shouldn't dissuade you from hopping back on your bike, favorite weight machine or into your running shoes, says Bendoraitis.
As frustrating as it may be to underperform your previous paces or weights, people need to get back into shape by taking it slow, he says.
"Start with something that is comfortable for you, like walking, biking or yoga. Anything that gets you moving," he says. "Do not try to run a marathon your first day back."
Bendoraitis recommends consciously scheduling (or re-scheduling) your exercise days and times each week so you know exactly when you are going to hit the gym and can hold yourself accountable.
"This way, your exercise time stays free, and the rest of your day can be built around it," he says.
Returning gym rats and beginners should aim for a combination of two or three days of strength training, three to five of cardio and three to five of flexibility – mixing multiple types of training each day – during each week. The goal should be to get a total of 120 challenging minutes of cardio exercise each week and two or three sets of 10-15 reps at a weight you can still maintain proper technique for strength exercises.
He also suggests those getting into shape – whether it is after a short break or a long one – should speak to their doctor and a fitness professional to set realistic goals and programming.
Even restarting by finding creative ways to add more movement to your daily life – parking farther from the store, walking the dog or doing exercises during commercial breaks – can do wonders for general fitness, he says.
"Ultimately, what's most important is finding a program you enjoy and can do safely," says Bendoraitis.
Related Posts
Comments
About the Author
Nathan Lurz, health enews contributor, is a public affairs coordinator at Advocate Good Samaritan Hospital. He has nearly a decade of professional news experience as a reporter and editor, and a lifetime of experience as an enthusiastic learner. On the side, he enjoys writing even more, tabletop games, reading, running and explaining that his dog is actually the cutest dog, not yours, sorry.