Does eating these two foods repair your lungs?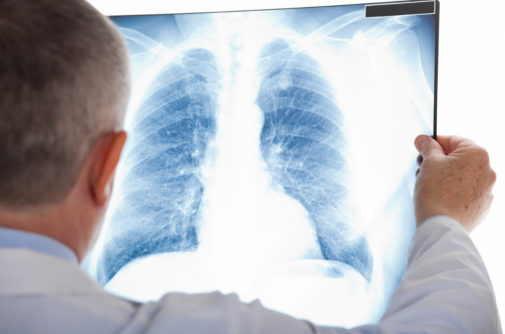 An apple a day keeps the doctor away.
Quite literally, according to a new study, which found that a diet high in tomatoes and other fruits, particularly apples, may help repair lung function or at least slow its decline in former smokers.
The research, out of Johns Hopkins Bloomberg School of Public Health, goes so far to suggest certain foods may help repair the damage done by smoking. The researchers looked at over 650 adults from three European countries in 2002, examining their diet and performing lung function tests. They then repeated the tests on the same group in 2012.
When comparing the groups who ate more than two tomatoes a day or more than three portions of fresh fruit with the groups who ate less than one tomato or less than a serving of fruit, they found that the groups who ate more tomatoes and fresh fruit had a much slower decline in their lung function.
Interestingly, when they looked at both smokers and non-smokers, they found that the group with the highest tomato intake also had a slower decline in lung function.
"This study shows that diet might help repair lung damage in people who have stopped smoking. It also suggests that a diet rich in fruits can slow down the lung's natural aging process, even if you have never smoked," Vanessa Garcia-Larsen, assistant professor in the Bloomberg School's Department of International Health and the study's lead author, said in a release.
The study did find that the positive effect was limited to fresh fruit and processed foods did not have a protective effect.
Experts say the study is promising, but find it hard to draw a definite conclusion from such research.
"This study provides a better outlook for people with lung disease, as classic findings have been that COPD is irreversible," says Dr. Michael Vercillo, a thoracic surgeon at Advocate Lutheran General Hospital in Park Ridge, Ill.
"Yet, while the research suggests that there may be an improvement in lung repair, it's important to note that there is not any direct evidence of this, as the primary finding is that the decline in lung function is slower, as opposed to evidence of an actual repair."
Dr. Vercillo explains that while it is hard to directly link a diet to an improvement in lung function, the study at least provides some ideas of steps that can be taken.
"A diet high in tomatoes and fresh fruit is part of a healthy, balanced diet and is something I recommend to all my patients," he says. "I also recommend eating a diet high in antioxidants. Still, the best thing a person can do is to abstain from smoking if they want to lower their risk of developing lung disease and other issues."
Related Posts
Comments
About the Author
Jacqueline Hughes is a former manager, media relations at Advocate Aurora Health. Previously, she was the public affairs and marketing manager at Advocate Lutheran General Hospital in Park Ridge, IL. She earned her BA in psychology at Stanford University in Palo Alto, California. Jackie has 10 plus years experience working in television and media and most recently worked at NBC 5 in Chicago. In her free time, she enjoys swimming, going to the movies and spending time with her family.