Rudolph's red nose explained – but what's the cause of yours?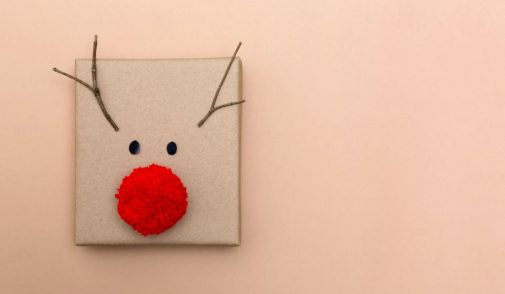 The most famous reindeer of all, Rudolph, had a red nose. But he likely wasn't the only reindeer affected. Reindeer, it turns out, have 25 percent more capillaries carrying blood in their noses. The increased blood flow can turn the nose a rosy red during exertion – like sleigh pulling – in extreme temperatures.
The rosy color (noticeable in a thermographic image) indicates the nose's surface is being kept warm, which helps protect the nose from freezing, and helps regulate the reindeer's internal body and brain temperature, according to scientists in the Netherlands and New York.
Had Santa and the coach had that research back in the day, poor Rudolph may not have been wrongly excluded from all the reindeer games. And, had either suffered from one of the culprits that turn a human nose red, they may have been more understanding. If you constantly have a red nose, here are a few of the more common reasons:
There are three types of rosacea most likely to cause skin on and around the nose to look irritated and red:

Erythematotelangiectatic rosacea: Results in flushing, redness and noticeable blood vessels
Phymatous rosacea: Leads to skin thickening and a bumpy texture
Papulopustular rosacea: Causes acne, redness and swelling

Very dry skin and dry skin conditions like eczema. These can irritate the nose and make it look red.
Lupus. Some people with this autoimmune disorder can develop a butterfly-shaped rash (malar rash) on their nose and cheeks.
Allergies like hay fever, dust and pet allergies. These can cause sneezing and a runny nose. Frequently blowing and wiping the nose can irritate the skin and give it a red appearance. Allergies can also cause the blood vessels in and around the nose to swell or burst, causing a red and swollen nose.
Cystic acne. If located on or around the nose, this severe type of acne, where the pores in the skin become blocked and lead to infection and inflammation, can lead to a persistently red nose.
Thyroid disorder, like Raynaud's syndrome. This syndrome is characterized by the constriction of small blood vessels that leads to decreased blood flow to the extremities, including the tip of the nose. The extremities first turn blue and/or white when exposed to cold and then, when rewarming, turn bright red.
High levels of stress or anxiety. A red nose without a clear cause can indicate excessive worry or stress.
Sun damage and alcohol. Broken capillaries around the nose or redness across the bridge of the nose can be a sign of alcohol abuse and/or sun damage.
"Although a red nose is not ideal cosmetically, it is typically not a cause for concern," says Dr. Vivek Iyengar, a dermatologist with Advocate South Suburban Hospital in Hazel Crest, Ill.  "But, if symptoms persist, don't hesitate to make an appointment with your primary care physician or dermatologist, as certain skin conditions can be improved with lifestyle choices, medications or in some cases, laser therapy."
Related Posts
Comments
About the Author
Kate Eller was a regional director of public affairs and marketing operations for Advocate Health Care. She enjoys road trips, dogs, minimalism, yoga, hiking, and "urban hiking."