Ruth Bader Ginsburg's health brings lung cancer into the spotlight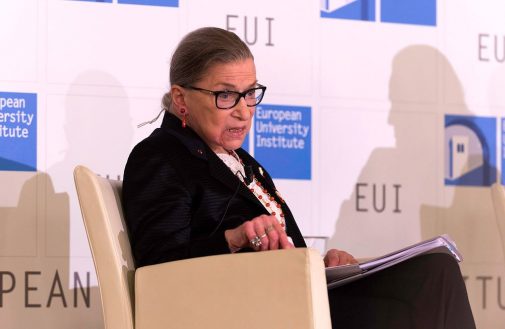 Supreme Court Justice Ruth Bader Ginsburg was discharged from a New York City hospital on Christmas Day after undergoing surgery on Friday, December 21 to remove two cancerous nodules from her left lung. Ginsburg's lung cancer was found during tests to treat rib fractures, which she sustained during a fall in her office back in November.
According to the American Cancer Society, lung cancer is the leading cause of cancer death in the U.S., largely because symptoms usually don't appear until the disease has advanced. Lung cancer screenings can help fight this disease by playing a crucial role in earlier detection.
Advocate Health Care offers low-dose CT scans (LDCT), a groundbreaking tool that can catch lung cancer earlier than ever – before symptoms show.
During this simple test, an X-ray machine scans the entire body, using low doses of radiation to make detailed pictures of the lung. The scan provides incredibly detailed pictures to help physicians detect even the smallest of tumors. It's safe, painless and has proven to reduce the risk of lung cancer death by up to 20 percent.
"Smoking is the largest contributing factor for lung cancer," says Dr. Michael S. Vercillo, a thoracic surgeon with Advocate Lutheran General Hospital in Park Ridge, Ill. "Advocate Health Care offers a quick lung health assessment that can identify your lung cancer risk factors and let you know whether a screening is recommended for you."
You may be eligible for a low-dose CT scan if you:
Are between the ages of 55 and 80
Smoked for at least 30 years, or have an equivalent "30-pack-year" smoking history
Are currently smoking or quit smoking within the last 15 years
Have gone more than one year since your last chest CT
"We have many tools to treat lung cancer if it is caught early. A low-dose CT scan screening for those who qualify is our best tool for early detection," says Dr. Vercillo. "While this screening, to date, has not been recommended for people with risk factors other than the ones listed above, if you have a close family history of lung cancer, or have been exposed to second-hand smoke or substances like radon or asbestos, it's important to inform your physician."
Related Posts
Comments
About the Author
Kate Eller, health enews contributor, is a regional director of public affairs and marketing operations. She came to Chicago and Advocate Health Care in 2014 after living in Iowa, Nebraska, Missouri, Kansas and Texas. She enjoys road trips, dogs, minimalism, yoga, hiking, and "urban hiking" around Chicago while taking photos for Instagram.