These heroes capture the emotions protective masks don't hide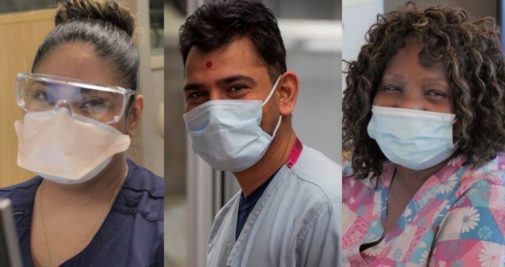 On the surface, it's easy to appreciate the brave and selfless acts of our frontline health care heroes in addressing the COVID-19 pandemic.
And if you look deeper – past the personal protective gear and peer right into their eyes – you will see many more reasons to feel grateful for their efforts, says Jacquelyn Whitten-Bailey, Chief Nurse Executive at Advocate Trinity Hospital, in Chicago.
"It's mandatory for us to wear a mask as part of our PPE, but that mask doesn't shield us from the emotions that come with being on the frontlines of COVID-10," she says. "While rounding through the hospital, I see eyes of love, sorrow, joy, pain, and passion, etc."
Whitten-Bailey manages all nursing operations at Advocate Trinity. It's her job to check-in with each patient care unit/department daily to ensure the smooth delivery of bedside and outpatient nursing care. One day, as Whitten-Bailey made her way through the hospital, inspiration struck:
"I wanted to find a way to share the amazing beauty of these eyes and let everyone know the wonderful and moving stories behind them," she says.
So, Whitten-Bailey enlisted the help of Specialty Services Logistics Technician and photography enthusiast Betty Wright. Armed with her personal camera, Wright took photos of physicians and team members whenever she wasn't maintaining patient care supplies, during the COVID-19 surge. The photos captured hospital heroes in action, as well as close-ups of the hospital team's eyes.
"Each pair of eyes tells a different story. You never know what some people are dealing with outside of this important work inside our hospital," Whitten-Bailey says, adding "If something's troubling them, they are able to put it aside…and if they're feeling especially upbeat, they share the love and help lift up their team…all in the name of taking care of patients and this community."
Several photos from Whitten-Bailey's and Wright's project are being posted on Advocate Aurora Health's social media accounts. To see them, follow us on Facebook, Instagram and Twitter.
Related Posts
Comments
About the Author
Cassie Richardson, health enews contributor, is regional coordinator on Advocate Aurora Health's Public Affairs team. She has more than 10 years of experience in health care communications, marketing, media and public relations. Cassie is a fan of musical theater and movies. When she's not spreading the word about health and wellness advancements, she enjoys writing fiction.