One mistake doesn't define her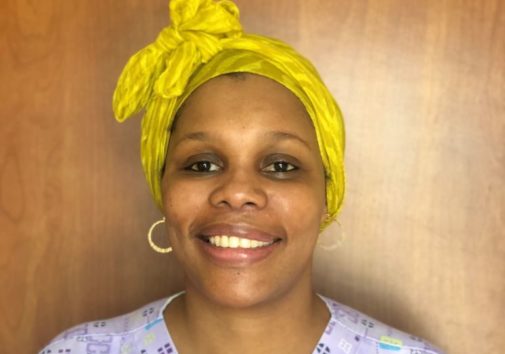 Getting a good job when you have something on your record can be incredibly difficult. For Karima Khalid, an incident from a few years ago meant that finding steady work was hard. Her record meant she was stuck in low-paying jobs and unable to pass the background check wherever she applied to be a Certified Nursing Assistant, or CNA.
Khalid had always enjoyed health care. Her mother was a nurse and was often the first one people called if they were sick or needed help. As a child, Khalid would tag along and help her mom care for folks who didn't want to go to the emergency room.
But when Khalid could no longer find steady work as a CNA, she wasn't able to give back in the way that she wanted. She bounced between temporary roles with odd hours. She was on welfare and tried countless trainings and community organizations, looking for anywhere that could help her move forward. Nothing was working.
Everything changed when she was referred to an opening for a CNA at Aurora St. Luke's Medical Center through Employ Milwaukee. The team at Employ Milwaukee gave Khalid a fresh sense of hope.
"I was really discouraged," said Khalid. "They kept believing in me even when I didn't believe in myself."
Khalid instantly felt comfortable in her interview to join the team at Aurora St. Luke's. Her professionalism and positive attitude stood out.  Not long after her interview, she got the call—and the job offer.
"When they offered me the position, I realized this was the place to be. It's one of the best hospitals in the nation," said Khalid. "It makes me really proud to be a part of something like that."
For Khalid, her role at Aurora St. Luke's will always be more than a paycheck. It was a chance at a fresh start. She feels like a good job helps her be a better member of the community. It's been a big win for her family, too. Her children look at her differently and draw inspiration from Khalid's story.
People with offenses on their criminal record, often called returning citizens, can struggle to find steady, meaningful work. But one mistake in someone's life shouldn't define them. Khalid found allies in the Talent Acquisition team at Advocate Aurora Health, who recently began a Returning Citizen Initiative. The team partners with community agencies like Employ Milwaukee to find and interview returning citizens as another way to live out the mission of the organization.
"If there is no one in your corner, if you feel like you're alone, find a support group or something to keep your faith strong. Nothing bad lasts forever," said Khalid. "Aurora is a place that will give you a chance. I feel like what I do in my job is something that has to be done. We have to take care of each other."
Click here for more stories about doctors, nurses and others working on the front lines.
Related Posts
Comments
About the Author
Ben Hoekstra is a public affairs coordinator with Advocate Health Care and Aurora Health Care. He previously worked in marketing and PR for various Milwaukee nonprofits and received his master's degree in Corporate Communications from Marquette University. He enjoys the outdoors, cooking, and all things Milwaukee.