'Self-care is not selfish."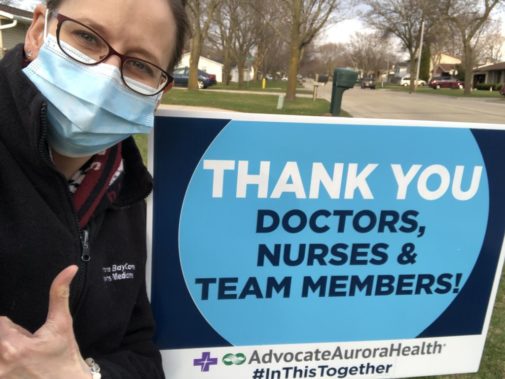 When Lori Ann Keisic was 12, she pulled her hamstring while doing a cartwheel at baton twirling practice. Although her injury earned her a referral to physical therapy, this childhood event influenced her future career decisions. Her interest in the profession continued to peak as she moved throughout high school and college, causing her to choose a physical therapy (PT) career.
"I love to be active, and I enjoy learning about how the body works and moves. Even more so, I enjoy teaching others how to take care of themselves through rehabilitation," Keisic said. "It's important to help others recognize patterns in themselves – reset unhealthy habits, and instead, reinforce healthy ones. Being a part of a patient's journey from injury to recovery is very rewarding."
After completing physical therapy school at Wayne State University and working as a PT aide, Lori found herself at Aurora BayCare for the last 19 years. That is until the pandemic hit Northeast Wisconsin in early 2020.
"Although I do not have direct contact with COVID-19 patients, there have been several days when I have come home exhausted," Keisic admits. "It's not so much from the number of patients – because that has not changed – but from the heightened awareness and diligence of new routines and changing guidelines, as well as from projecting your voice, so it carries through the masks and shields."
Being in sports medicine, Keisic works with active individuals and also orthopedic physicians and staff. Her patients can range from an 8-year old dancer with a sprained ankle to a teenage gymnast with back pain to a 75-year old golfer with hip pain. She also cares for patients with Sacroiliac (SI) Joint dysfunctions, ACL reconstructions, rotator cuff repairs, headaches/TMJD, knee pain and traumatic orthopedic injuries.
When Safer-At-Home orders first fell into place last March in Wisconsin, Keisic and her PT team knew they had to work together to handle transitions, changes and schedules so that it didn't interrupt the continuum of care their patients had experienced before COVID-19. She remembers that two of her staff members had just been promoted to supervisor positions but demonstrated resilience and leadership skills throughout the first few months of the pandemic as if they had been in their roles for years. To assist with social distancing, the Sports Medicine therapists alternated the weeks they saw patients in the clinic, which in turn ended up helping staff learn each other's strengths faster and leverage them to care for the patients even more effectively.
In addition to her amazing coworkers, Keisic credits her cardiovascular workouts, fresh air, good sleep, healthy eating habits (most of the time!) and her faith in helping her in the past year. In fact, the Diocese of Green Bay recently recognized her with a 2021 Faith that Works Award.
Keisic recommends that people find their routine and zones of mental space within areas of their homes, especially because so many people are not going into the office yet.
"I would also encourage people to reach out to a friend, family, groups and/or mental health professional if you need help," Keisic said. "Like the flight attendants tell us, 'Put on your own oxygen mask before you assist others!' Self-care is not selfish."
Looking forward, Keisic can't wait to give her entire family a huge hug and meet her niece for the first time when it is safe to travel. Her family is located throughout four different states, so she has relied heavily on technology to stay in communication with everyone. She has known a few people who have passed due to complications due to COVID-19 and has seen firsthand how hard it has been for their families as well as the staff that cared for them. But even at 12-years old, Keisic understood what a future in PT meant.
"We all went into our health care fields with the mindset that we want to help people. And we also want to be there for them as a source of comfort, healing and support."
Click here for more stories about doctors, nurses and others working on the front lines.
Related Posts
Comments
About the Author
health enews staff is a group of experienced writers from our Advocate Aurora Health sites, which also includes freelance or intern writers.