Health care heroes: Taking back to give back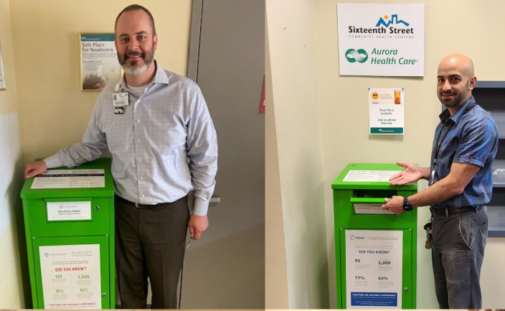 The opioid abuse crisis is a complicated problem, but stopping young people from getting hooked can go a long way to helping solve it.
Sometimes, people will find a parent or grandparent's leftover prescription drugs in a cabinet or drawer and start down a path to addiction that way.
It was with that in mind that Nick Ladell put a plan into action. Working with other hospital leaders, the Director of Pharmacy Services at Aurora West Allis Medical Center worked to install three drug takeback bins, one at his hospital and two others in at Advocate Aurora Health hospitals in the Milwaukee area.
The locked boxes are a safe place for people to put the medicine they don't need anymore, and the state of Wisconsin hosts a website that shows where all the boxes in the area can be found.
After the drugs are dropped off, they're disposed of safely. The idea is simple: If there are no prescription drugs at home, it's harder for people who intend to take them improperly to get them.
Ladell has seen the opioid problem first-hand heroin overdose victims are brought to West Allis.
"I want to be part of the solution," Ladell says.
And the drug takeback program also helps with cleanliness of the Great Lakes.
"Drugs that end up in landfills or away or flushed down the toilet end up in our waterways," Ladell says. "This way, traces of these medicines don't end up in our drinking water."
That's why Ladell and his team received a Live Green, Live Well Award from Advocate Aurora Health this year. The awards recognize team members who are working hard to create healthier people and a cleaner Earth.
"Today's purpose of helping people live well includes minimizing waste, avoiding harmful chemicals and reducing energy use," says Mary Larsen, Advocate Aurora Health director of environmental affairs and sustainability.
Ladell joins several other team members who won the award in Wisconsin for various projects, including Kyle Brady at Aurora Medical Center – Bay Area, Kim Fifrick at Aurora Sheboygan Memorial Medical Center, Sheila Fipps at Aurora Sinai Medical Center, Nicole Glaser at Sinai, Kimberly Gosdeck at Aurora Medical Center in Kenosha, Katie Koubaddy at Aurora Medical Center in Manitowoc County, Nicole Lorino at Aurora St. Luke's Medical Center, Tamara Lyday at Aurora Fon du Lac Clinic, Kari Marquardt at Aurora Medical Center in Washington County, Evelyn Marshall at Sinai, Allia Nelson at Sinai, Joel Pietryga at St. Luke's, Emily Schultz at the New Berlin call center, Jennifer Starin at Aurora Health Center in Lake Geneva, Dawn Tasche at Sheboygan, Christy Tillman at St. Luke's, Jamie Udelhofen at the Forest Home Business Center and Angela Weins at St. Luke's.
Related Posts
Comments
About the Author
Mike Riopell, health enews contributor, is a media relations coordinator with Advocate Aurora Health. He previously worked as a reporter and editor covering politics and government for the Chicago Tribune, Daily Herald and Bloomington Pantagraph, among others. He enjoys bicycles, home repair, flannel shirts and being outside.