Her faith has helped her keep going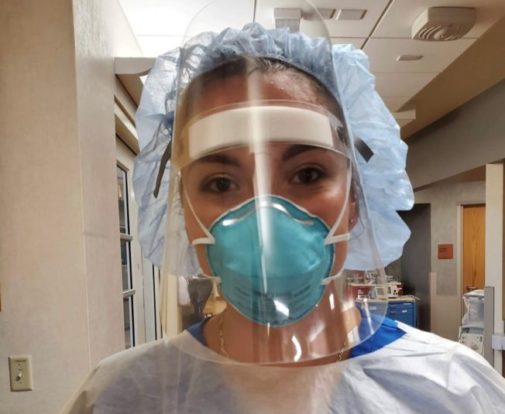 "I want to help others, my patients, coworkers, friends and family as they go through challenging times," said Jenny Pineda, a nurse at Aurora St. Luke's Medical Center. "If I can do that in my profession and as a human being, I can help others to cope day by day."
Pineda has been a nurse for seven years at St. Luke's. Before that she helped in the emergency department as an administrative assistant. Wherever she has worked, she hopes to help others not just physically but emotionally as well.
Pineda's work in the Cardiac ICU has become even harder during the pandemic. She remembers holding the hand of one patient as his family said goodbye over a video call.
"One of the nurses was holding his hand and stroking his head. It was very hard and very sad. He was a dad, a husband, a friend, an uncle and a neighbor," Pineda said. "If you lose someone that important and that special, you hope to say a last goodbye in person. The last thing you expect is to say goodbye through a video call."
Pineda remembers praying for peace and healing for the family. She's had to ask too many patients what last words they want to pass on to their families.
"Sometimes when they are intubated, it's the last time they say anything. They are gasping for air, they are crying and they are scared. You want to have them say at least a few words so they can speak to their family before they get intubated," said Pineda.
Pineda feels the emotional toll of caring for patients with COVID.
"COVID has been very challenging for all of us," she said. "It can be hard to find motivation and keep going, but my faith and the values my mom instilled in me help me put myself together."
She's taken this as an opportunity to help educate her community, family and friends. Pineda is Latina and speaks Spanish. She often finds herself explaining COVID guidelines to Spanish-speaking family and friends.
"Most of my family and friends are receptive to the stories and information I share from my day-to-day work. It's reliable and it's heartbreaking," said Pineda. "A lot of other people who speak Spanish don't always understand the guidelines about social distancing and not gathering. When they have someone who works in the COVID unit tell them that people are dying from this, that helps."
Pineda says she's grown stronger in her faith and relied on a mentor to cope. Her mentor has advised her to do things like journaling, yoga or going for a run to help care for her own mental health. Some days, just taking her dogs to the dog park helps her to reset. Pineda particularly misses being able to hug family and friends.
When asked how others can help, her message is simple.
"We can take care of each other by staying at home," said Pineda. Social distancing, wearing a mask and following other guidelines help stop the spread of COVID-19 and support our frontline healthcare workers.
Read more:
Related Posts
Comments
About the Author
Ben Hoekstra is a public affairs coordinator with Advocate Aurora Health. He previously worked in marketing and PR for various Milwaukee nonprofits and received his master's degree in Corporate Communications from Marquette University. He enjoys the outdoors, cooking, and all things Milwaukee.